Submitted by
Madison Girard
on July 31, 2023 - 9:31am
University of Washington is home to many opportunities for students to expand their learning outside of the classroom. Economics students have long been involved across campus, and we are proud to share some of their recent accomplishments. 
The Undergraduate Research Symposium is an opportunity for undergraduates to share their research in poster sessions, panels, and individual presentations with the greater UW community. The Department of Economics was well-represented at the 2023 Symposium, with presentations and panel moderations from our students and faculty. Teaching Professor Michelle Turnovsky moderated a session on Issues in Finance, Public Finance, and Political Economy with presentations by multiple Economics undergraduates. Our Economics Honors Program students also presented at poster sessions, including Enyao Xiao and Mahika Rao. Enyao's research focused on the impact of food pantry locations on housing prices in Baltimore, Maryland. She was advised by Assistant Professor Brian Greaney. Mahika presented on green cities and their potential beneficial impact on asthma in children. She was advised by Associate Teaching Professor Melissa Knox.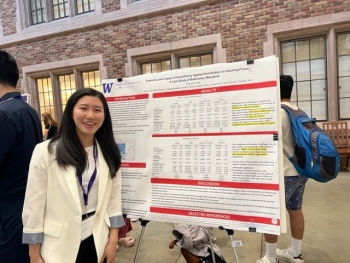 The Department of Economics also recognized student excellence with our 2023-2024 student awards. We awarded nine students with scholarships and two students with the Outstanding Paper Awards. Winners are selected based on academic merit and financial need. Student financial support is made possible through the generosity of our alumni and friends. To learn more about supporting our students, visit this page with an overview of different funds.  
Economics students are engaged, intelligent, and chasing opportunities on campus and beyond. Their success is central to our mission, and we look forward to seeing all that they will do in the coming academic year.