Submitted by Nicole Johns on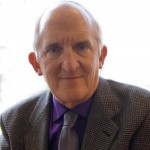 Established in 1985, the Department of Economics Distinguished Alumnus award recognizes an alumnus whose professional achievements and cumulative contributions have brought personal distinction, enhanced the profession, improved the welfare of the general public, and brought honor to his or her alma mater. The distinguished alumnus gives the commencement address at the department's annual graduation ceremony.
Selected by the executive committee of the Economics Visiting Committee, this year's honor goes to Dr. George Carlson, BA '64. After completing his studies at UW, Dr. Carlson went on to earn his MA in economics at Cornell University in 1966, and his PhD in economics from the University of Illinois in 1971, where he wrote his dissertation on consumption taxation.
Upon completion of his graduate studies, Dr. Carlson joined the U.S. Treasury, specializing in tax policy issues for 14 years. He concluded his Treasury service as Director of the Office of Tax Analysis, the group that prepared the economic analysis in support of the Tax Reform Act of 1986, and received the Treasury Department's Exceptional Service Award from Secretary James A. Baker III.
After leaving the Treasury, Dr. Carlson became Director of the Economics Analysis Group at Arthur Andersen, LLP, where he developed a client-oriented practice in international taxation. He concluded his career at Deloitte Tax, LLP, advising clients on international tax issues and developing the firm's Senior Staff training program in transfer pricing. He was recognized as one of the world's leading transfer pricing advisers by Euromoney's  Expert Guide, and was invited by the State Administration of Taxation of the Peoples Republic of China to teach at an international taxation program. He retired from Deloitte in 2008.
Dr. Carlson and his wife, Dr. Lynda Carlson, live in Arlington, Virginia. Lynda is retired from a career with the National Science Foundation, where she was Director of the National Center for Science and Engineering Statistics. They travel occasionally to Seattle, where George grew up, having attended Eckstein Middle School and Roosevelt High School. Among his many outstanding professors at the UW, two stand out: legendary Professor Giovanni Costigan, who embellished his history lectures by quoting poetry (from memory) and Economics Professor Henry Buechel, who had a lasting impact on Dr. Carlson's life, both professionally and personally.
For many years, the Drs. Carlson have generously supported the Henry T. Buechel Memorial Scholarship Endowment. Established in 1998, the award provides a three-quarter graduate fellowship for a third year graduate student who demonstrates financial need, is an outstanding teaching assistant, and has an outstanding academic record. The fellowship is awarded by competitive proposal to a student and a faculty member who submit a plan of joint research. Professor Buechel joined the UW faculty in 1942 and was widely considered one of the most inspiring educators on campus.
Dr. Carlson is also a participant in the economics undergraduate mentorship program and is a regional alumni representative for the Washington, D.C. area.