Submitted by Nicole Johns on
Tom Olson, BA '61, JD '64, wears many hats – including one for his volunteer position as a fireman/water tender on the historic steamship S.S. Virginia V, presently moored at Seattle's historic Heritage Ship Wharf on South Lake Union.
A lover of all things mechanical, Tom became interested in the steamer after his wife threw him a birthday party on the celebrated ship a few years ago. As a volunteer fireman/water tender, Tom is responsible for operating and maintaining the triple-expansion, double-acting, reciprocating steam engine. Notably, the engine is the original, installed in 1922 from parts cast in Seattle in 1898 for use by the U.S. Army.
When he's not getting dirty in a steamer engine room, Tom is a lawyer focused on business law and estate planning. He is a member of the Economics Visiting Committee and has been an undergraduate mentor for five years, in addition to many other philanthropic interests.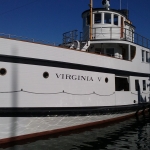 The Virginia V (nicknamed the 'V5') made her maiden voyage on June 11, 1922 as part of the Pacific Northwest "Mosquito Fleet" that connected coastal towns along South Puget Sound. The fleet transported crops and livestock from farms on Vashon Island and ferried people between the growing port cities of Seattle and Tacoma. The ship earned status as a registered National Historic Landmark vessel because of her all-wood construction and survival as the last operational example of a steam-powered ship. 
 Today, the V5 is the last of the Mosquito Fleet and operates public excursions, private event rentals, and visits to regional maritime festivals. A staff of primarily volunteers from the Steamer Virginia V Foundation keep her operational year-round. She has a social presence, too: her Twitter handle is @ssvirginiav and she boasts some 1,200 Facebook followers.