Submitted by Nicole Johns on
Alumnus Robert (Bob) Hellrich-Dawson, Ph.D. (BA Economics '93) and his wife Lydia are seasoned travelers: Germany, France, Belgium, Italy, Spain, Scotland, and the list goes on. As a senior energy economist with the Federal Energy Regulatory Commission in California, Hellrich-Dawson has reached a point in his career where he has the time and means to explore cultural and historical sites of interest to him and Lydia - at their leisure and on their own terms.  
As an undergraduate in the early 90's, however, that wasn't the case. Working his way through college as a clerk at the long-gone Pay 'n Save on the Ave, Hellrich-Dawson couldn't manage the cost of the available study abroad opportunities. And while seeing the world as an established adult is a valuable way to encounter other cultures and gain a more global perspective, nothing can quite replace immersing oneself in the language, culture, history, and institutions of another country during college – an experience that, according to many students who study abroad, is the most transformative of their college experience.
After seeing a recent news story about Economics' new study abroad partnership with Japan's Hitotsubashi University in Tokyo – and learning that we have partnerships with Free University in Bolzano, Italy, where they had recently vacationed, and Ludwig-Maximilians University in Munich, Hellrich-Dawson's favorite European destination – Bob and Lydia decided to direct their annual gift to Economics to support students who want to study abroad but may not have the means to do so.
"It can be harder to travel when you get older," Hellrich-Dawson said. "On the one hand, you have more money, but you also have more responsibility. So as long as you're in college, [why not] travel while you can also earn college credits and learn something? A really great thing about seeing other cultures is realizing that others don't live like you do. That means immersing yourself in another language, different food, different customs. You realize, though, that you share some things, which can be a nice dose of reality if you're viewing that faraway place as the greener grass. They have political extremists, they have traffic, they still have to pay their cell phone bill."
College students should take the opportunity to study abroad, he continues, because "The earlier you learn about other cultures, the longer it can influence your outlook on life."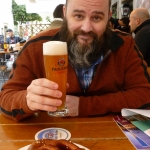 Though he didn't get to travel as a college student, Hellrich-Dawson had the opportunity to experience other cultures as a child. His father's job with the Department of Defense took the family to South Korea and Germany, among other locales, before Hellrich-Dawson was in the third grade. Perhaps this early exposure left him with some lingering wanderlust, the fires of which are undoubtedly fanned by Lydia, who has a background in art history. Together they have recently visited European cities with impressive art nouveau architecture, including Barcelona and Brussels. Eastern Europe is next on the list.
Through his annual gifts, Hellrich-Dawson gives back to the department that helped shape him professionally and personally. "I didn't realize it at the time," he said, "but [UW Economics] had a real impact on me. Fahad Khalil is the reason I went to graduate school…his industrial organization and game theory classes were just amazingly cool. And Greg Ellis' environmental economics class was eye-opening. Thank goodness my eyes were opened because I had absolutely no clue what I was going to do after graduation."
Our undergrads planning to study abroad this coming academic year may not have any idea what to do after graduating, either, but at least the opportunity to see the world will be a little more within their reach, thanks to the Hellrich-Dawsons' generosity.
---
Economics is a universal academic subject, and the study of it translates into many languages. Our partnerships with renowned institutions across the globe prepares our undergraduates to leave with a global perspective, the ability to navigate and thrive within diverse communities and workplaces, and an appreciation for the value of diversity. Learn more about supporting Economics students.