Submitted by Nicole Johns on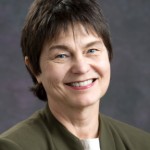 The 2013 Economics Distinguished Alumnus award was presented to Dr. Suzanne Scotchmer at the undergraduate graduation celebration on June 12, 2013, at which time she gave the keynote address to our graduating seniors. Scotchmer is only the third woman to be honored with this award.
Dr. Scotchmer is Professor of Economics, Law and Public Policy at the University of California, Berkeley. She has held visiting and teaching appointments in the economics departments of Harvard University, U.C.L.A., University of Southern California, New School of Economics, Moscow, Stockholm School of Economics, University of Auckland, University of Cergy-Pontoise (Paris), Tel Aviv University, University of Paris I (Sorbonne), and in the law schools of New York University, University of Toronto, University of Southern California, and UCLA. She has also held research fellowships at Yale University and Stanford University, is a fellow of the Econometric Society, has served on committees of the National Research Council (National Academies of Sciences), is a research associate of the National Bureau of Economic Research, and serves, or has served, on several boards, including the Toulouse School of Economics and the American Law and Economics Association, and program committees of the American Economic Association and Econometric Society. She has consulted for the Department of Justice Antitrust Division and private clients, and has been a scholar in residence at the Court of Appeals for the Federal Circuit. In 2004 she published Innovation and Incentives with MIT Press.
Dr. Scotchmer completed her Ph.D. in economics at UC Berkeley in 1980, and her B.A. in economics, magna cum laude, at UW in 1970. She grew up in Pelican on Chichagof Island in Alaska.
Read more about the Department's Distinguished Alumnus Award.