Submitted by Nicole Johns on
Department of Economics academic counselors Ahna Kotila and Simon Reeve-Parker - who advise our undergraduate and graduate students, respectively – each celebrate work anniversaries this month, combining for a total of nearly 25 years supporting Economics students. Together, they have advised nearly every student earning a degree in the department for the last nine years.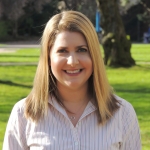 Ahna started working as an undergraduate advisor in the department fifteen years ago in August 2000, just a few weeks after completing her own BA in the department. Ahna found herself in the office she had visited many times as a student, advising students who in some cases were older than she was. Though green, Ahna's knowledge of the department and its courses combined with her experience as a student assistant in the University Honors Program made her an excellent fit for the position.
In her role as lead academic counselor for the department, Ahna plans and runs the department's undergraduate admissions process, works with students on graduation plans, course planning, and University requirements, and is the department's course schedule and curriculum coordinator.  She supervises the second undergraduate advisor in the department as well as a half-time graduate student assistant.
An avid Husky sports fan, Ahna and her husband Brian – whom she met as a student and who is also a UW Economics alumnus – hold season tickets to UW football and basketball games and have every intention of sending their two kids, 8 and 5, to UW. Both Ahna and Brian went on to earn master's degrees at UW – he in business, she in higher education administration. Safe to assume that their closets contain a lot of Husky purple!
Simon celebrates 10 years at UW, having joined the Economics staff in 2006 as the graduate program counselor after holding the same position in the Physics department since July 2005. Prior to coming to UW, Simon lived in Pasadena, California, where he worked as associate director of academic affairs at Fuller Graduate School of Psychology. A native of England, Simon earned his BA in European History at the University of Warwick before spending two years in Eastern Europe as a youth development volunteer.
As graduate program counselor for the department, Simon works closely with more than 100 current graduate students and graduate faculty coordinating all aspects of their education, from the admission process to hiring teaching assistants to dissertation defenses. Additionally, he communicates with hundreds of prospective students each year and maintains regular correspondence with the department's many doctoral alumni.
Having completed his master's degree in higher education administration at UW, Simon is also a proud Husky alumnus with plenty of purple in his closet. An enthusiastic (armchair) sports fan, Simon is commissioner of the Economics staff fantasy baseball league. He also serves as a department expert on cricket and can make a perfect cup of tea! Simon has two sons, 11 and 2, also future Huskies. 
The University of Washington recognizes the hard work and dedication of its employees by acknowledging staff for milestone anniversaries for every five years of service through the UW Service Recognition Program.